It seems that doubt has been cast on the scores for the event  Purify the Lustful Mind on the Chinese server.
http://www.towerofsaviors.com/zh/guild-ranking
Apparently, there is (this may not be news to some) a program that when used together with TOS Chinese version (don't know whether English version can be used also) on rooted devices, gives Stamina of 999 automatically turns the runestones. Reports have indicated that all users in the top guild was blocked after a screenshot of the use of this hack/program was posted on Facebook. They were later reinstated because of legal considerations -- they had used money to purchase diamonds, which put everything into a gray legal area.
Seriously, I really wondered how in the hell it was possible for a guild to get scores that high. I won't say its impossible...  but really?
Salve et Vale.
I am including a screenshot that was "Lined" to me by a friend here in Taiwan. It is clear that the stamina listed is 999. Does anyone have stamina that high?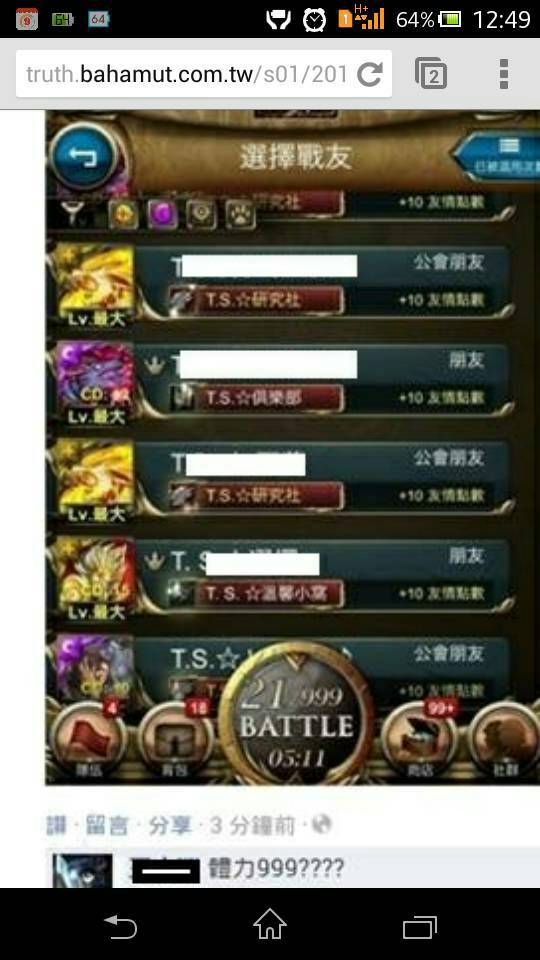 Posts

: 24


Reputation

: 0


Join date

: 2014-02-27



Lol all this for a shiny badge?
Its like "yay" we won! but really didnt.
Admin




Posts

: 184


Reputation

: 1


Join date

: 2014-02-24






Posts

: 100


Reputation

: 0


Join date

: 2014-02-26



What the...

For shame! Commit imaginary seppuku to regain thy dignity.

But seriously, that feels so cheap. I try extremely hard to get my points, waiting for stamina to refill, but seeing that just makes me feel small and sad.



Posts

: 162


Reputation

: 4


Join date

: 2014-02-25


Location

: California, USA



Guys... consider they are Chinesee

Even if You do something best in the world there will always be some chenesee guy who does it better

cmon.
But yeah. Honestly when I was 13 yea... i was searching for some bot for Tibia or Counter strike. But thats not that way.
Its not worth it. It steals all the satisfaction



Posts

: 130


Reputation

: 0


Join date

: 2014-02-26




---
Permissions in this forum:
You
cannot
reply to topics in this forum